Full Moon Prayer Flags for Arlington Gardens Meet Up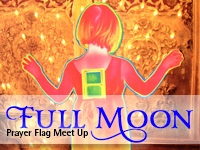 Let's meet up at the Arlington Garden in Pasadena, CA for a free, community gathering! We will each create two collaged banners to contribute to a longer chain of prayer flags which we will hang in the Yoko Ono Peace Garden on-site. Bring something tasty and we will wrap up with shared snacks and discussion.
Things To Bring:
1) Magazines to cut up and collage with (other supplies provided)
2) Pot luck item
3) Journal/Pen
Parking: FREE, Plenty of street parking in neighborhood around the park.
For more information, please RSVP at: http://www.meetup.com/Arts-Manifestation-Art-Spirituality-and-Consciousness/events/222921350/