Nocturnal Lullaby: Surface Pattern Design Process + FREE Desktop Wallpaper Download
Don't you just love seeing the process behind a designers' or artists' work? I am fascinated by where, how, when, and why my favorite creators CREATE! After sharing a recent moodboard on my blog last week, I decided to share my process and the development of a final surface pattern design with you this week. Let's see where it all starts...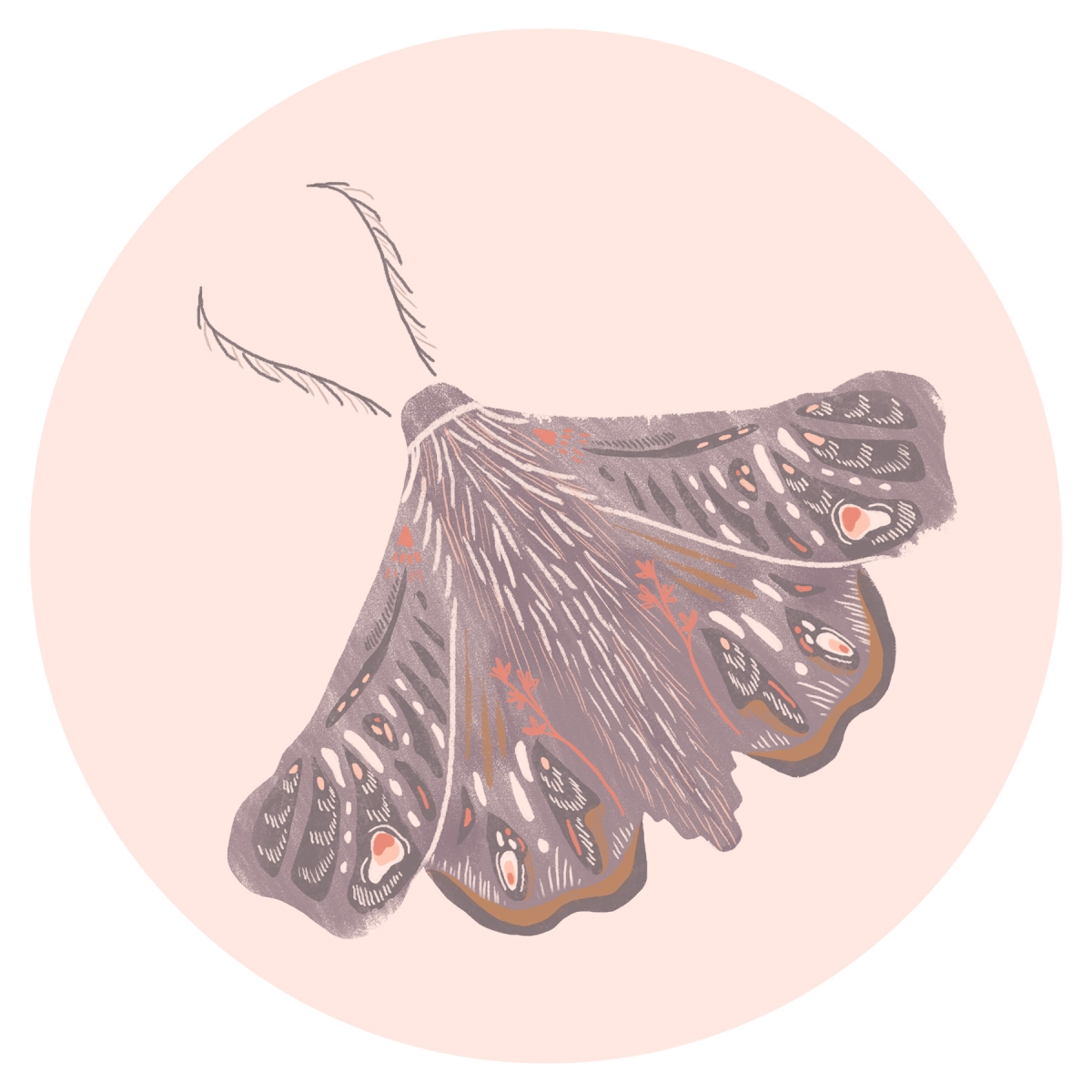 There are hundreds of thousands of beautiful prints and patterns online and designers capture ideas from their own sketchbooks to others' designs while out on shopping excursions, but many of the best designs begin with a bit of preparation and the creation of a moodboard. Moodboards provide a firm foundation for designs that can grow and expand into collections that are cohesive, telling a narrative of their own and creating a nexus from piece to piece with a consistent color palette throughout.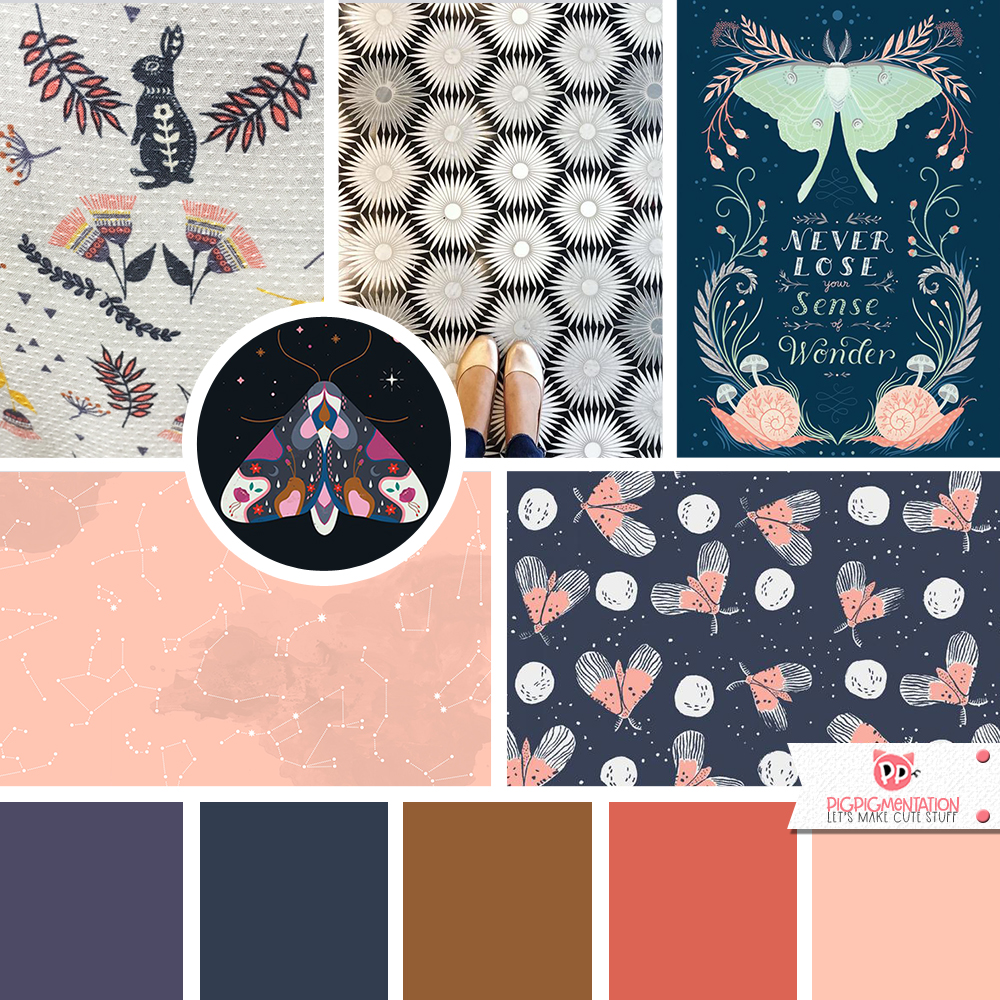 To learn more about each of the inspiring designs featured in this moodboard, check out my last blog post for links and discussion
I enjoy beginning my process by creating a moodboard as soon as an idea for a motif takes hold. For my newest pattern, Nocturnal Lullaby, it started with a challenge in Jessica Swift's Pattern Camp group and a call for...BUGS! In reflecting on the season, I settled on CUTE rather than creepy Fall critters so I'd have an excuse to play with a trend I've seen building for some time now...MOTHS! I scoured my favorite online shops, inspiring sites, blogs and more to create this moodboard: Nocturnal Nursery.
Once the color palette, style, and feel of the pattern were determined, it was onto my sketchbook. I had just sketched a moth a couple months ago and I began by reviewing the previous style I had been working with before moving on to some new motifs and hand lettering: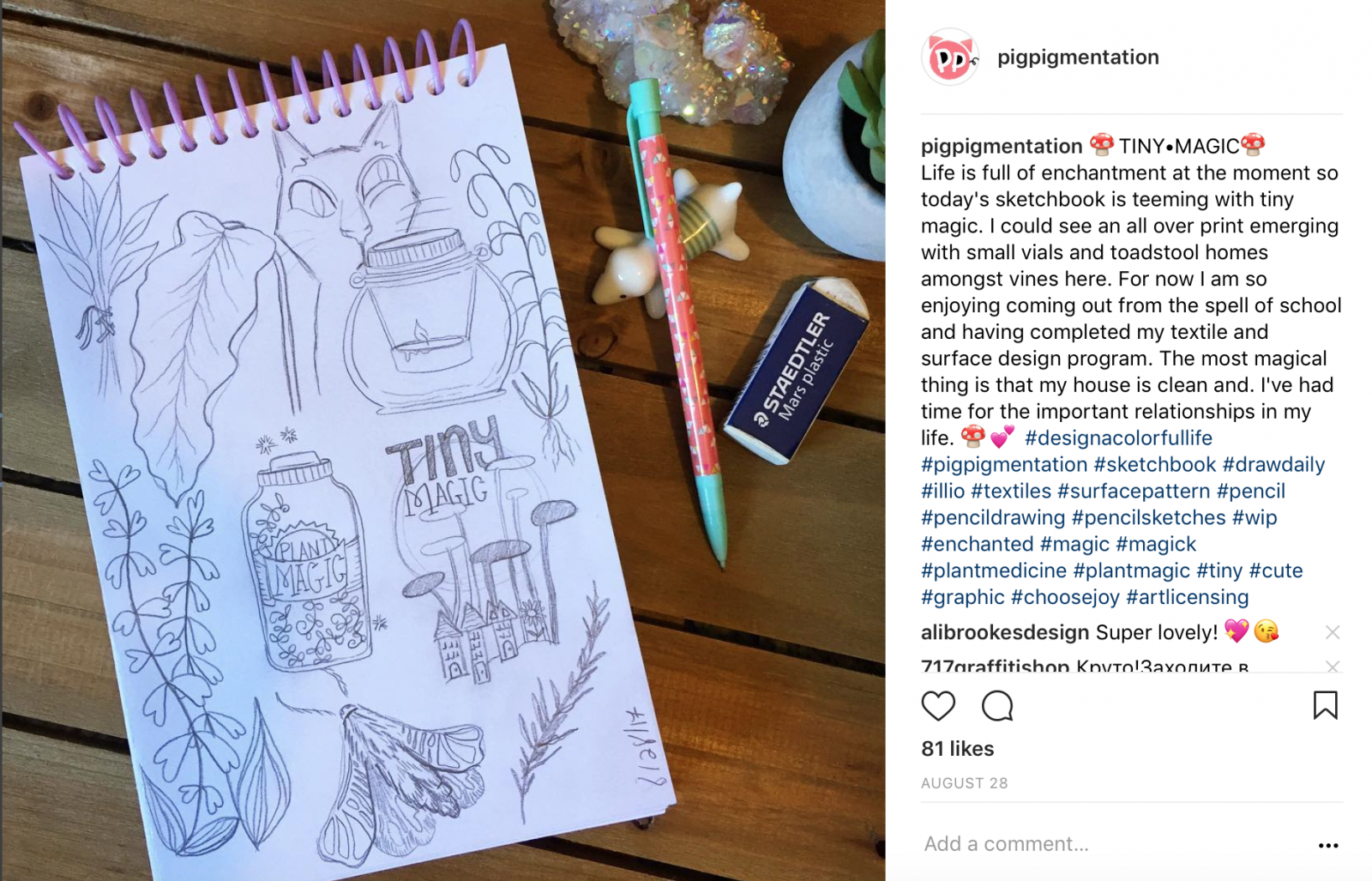 Follow me on Instagram for more sneak peeks into my sketchbooks, my process and my daily life!
At this point, it was time for a literal change of scenery! I happen to be going on a weekend get-a-way to our family's beach house with my husband and some friends, so I eagerly packed up my studio essentials and relocated from the distractions of home. I planned some peaceful time for creativity and got to work on my Cintiq while the ocean waves lulled me into a state of gentle concentration. This was the perfect place for this particular pattern to come together!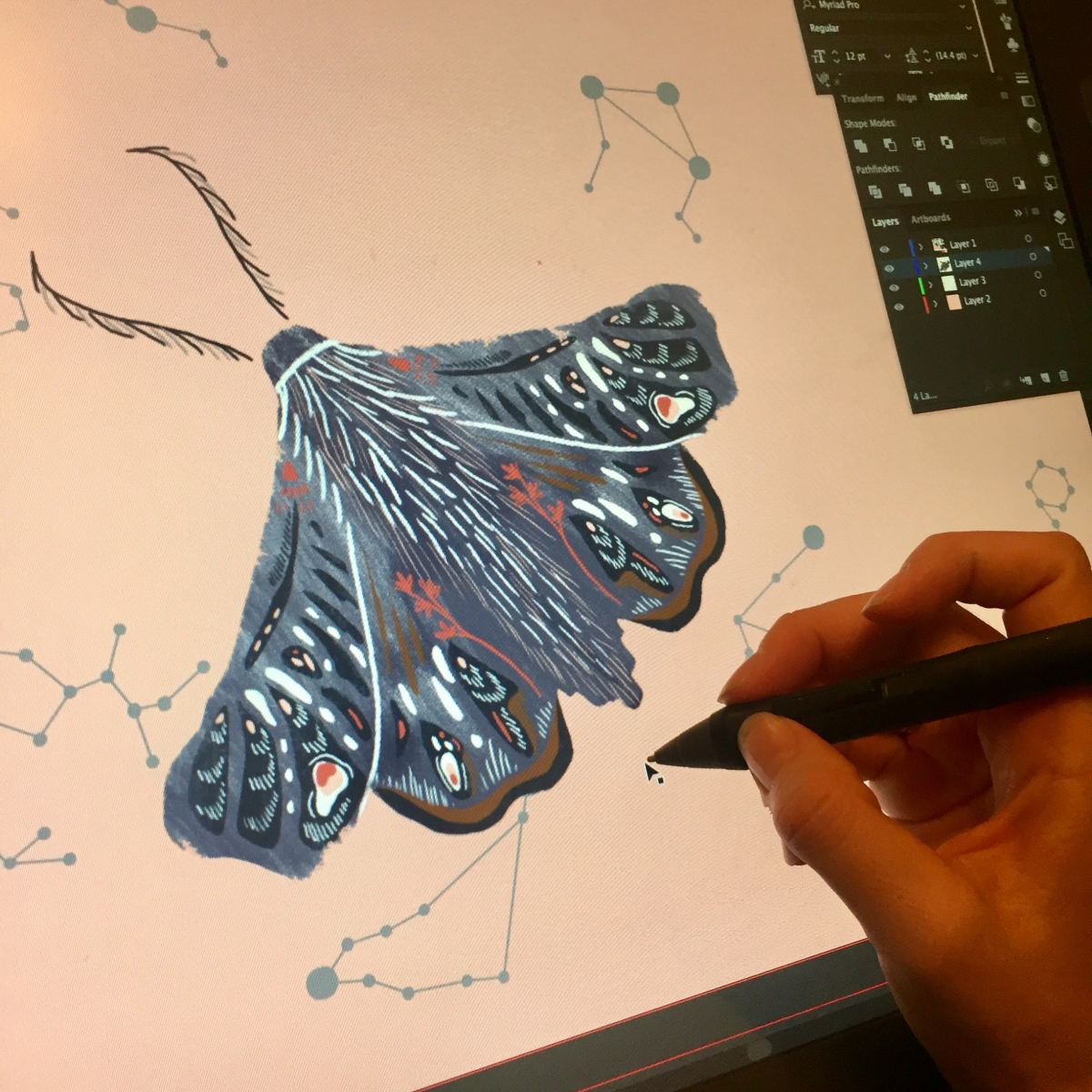 There is no doubt the beautiful colors of the seaside sunset influenced my work along the way- just check out the sweet pinks on the water and the grey shades of these blues!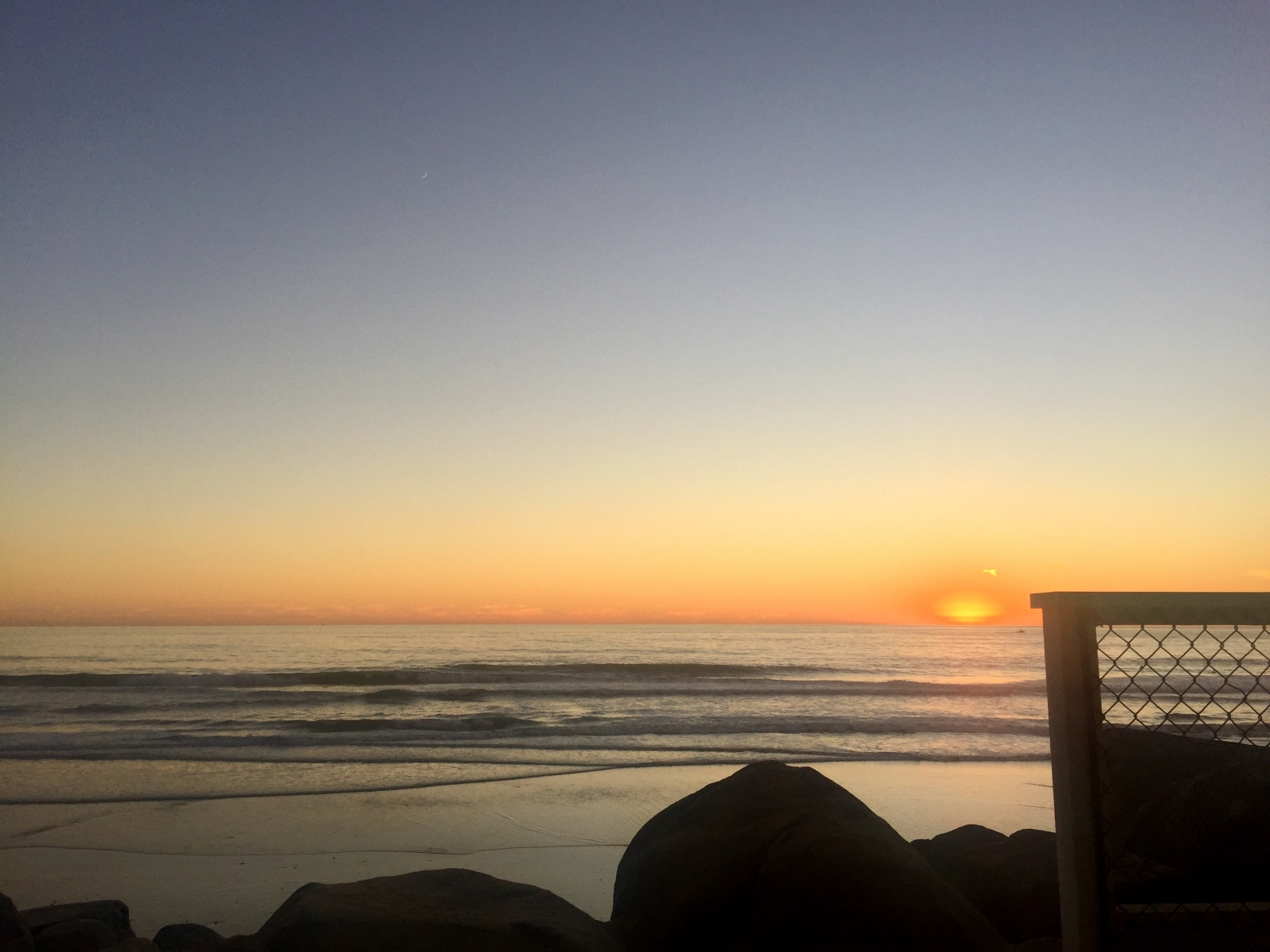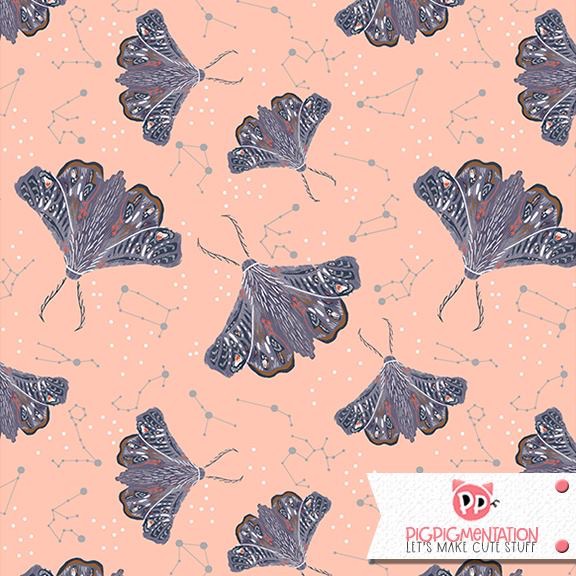 You can see more of my original repeat patterns in my portfolio, here.
As the seasons turn from Summer to Fall, and as my new website here at PigPigmentation begins to take form, I'd love to share this pattern with you as a FREE Desktop Wallpaper, dear reader- thanking you for your support and your cheerleading.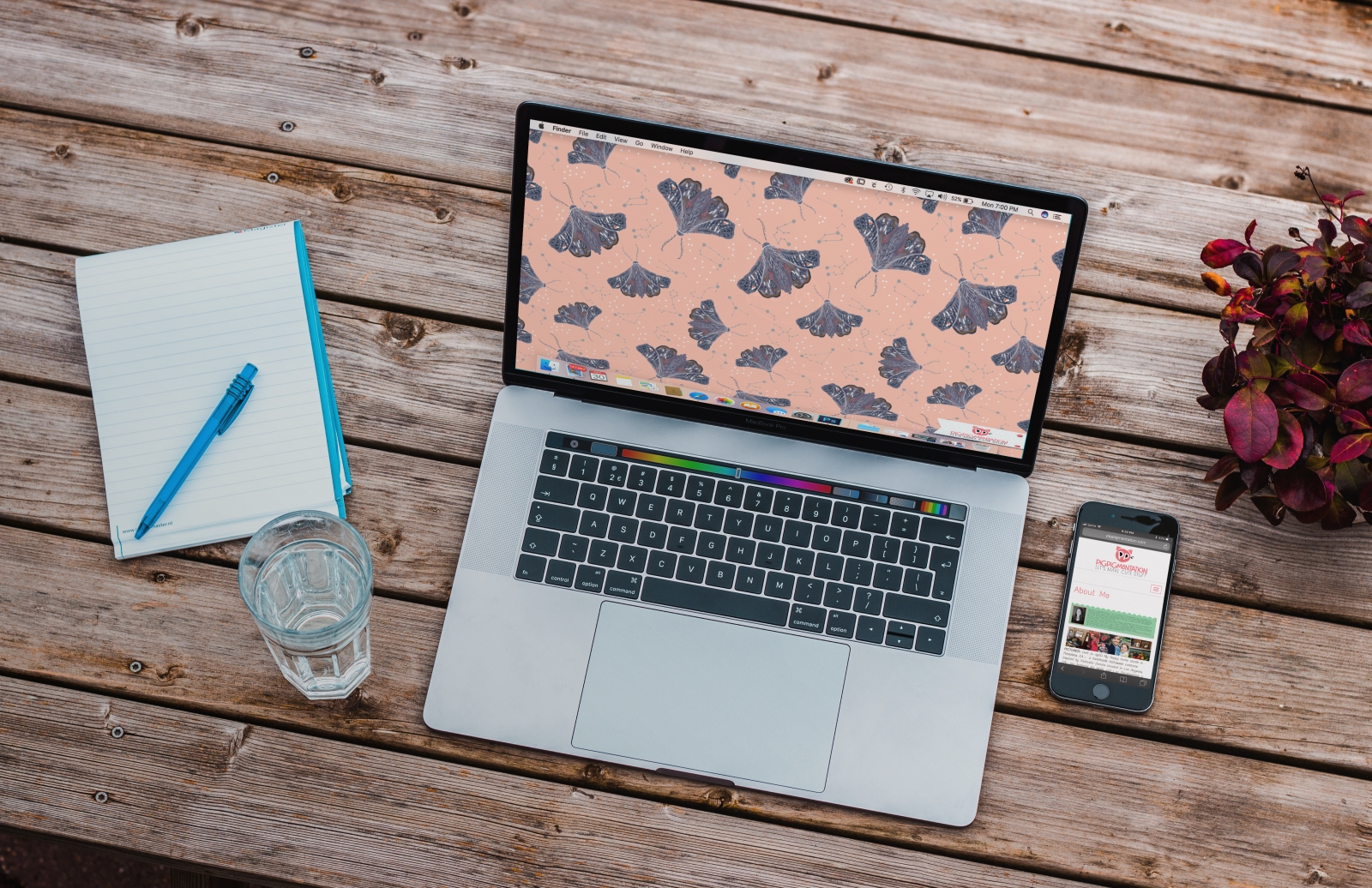 All you need to do to download this FREE Desktop Wallpaper is go to my shop, add it to your cart, and complete the checkout process- you will not be charged for this gift. You will be prompted to enter your contact information and I ask that if you are not already signed up for my newsletter that you grant me permission to add you to my email newsletter in exchange for this FREE download. By joining my newsletter, you will be the first to know when new products are released with this pattern as well as others are available and privy to exclusive freebies, just for my followers!
I've been enjoying the meandering flight pattern of these sweet wings on my own laptop screen for the past week and hope that it brings a sense of calm and peace to you as well. I look forward to sharing more CUTE stuff with you soon!