MOODBOARD MONDAY: NOCTURNAL NURSERY, Moths + Constellations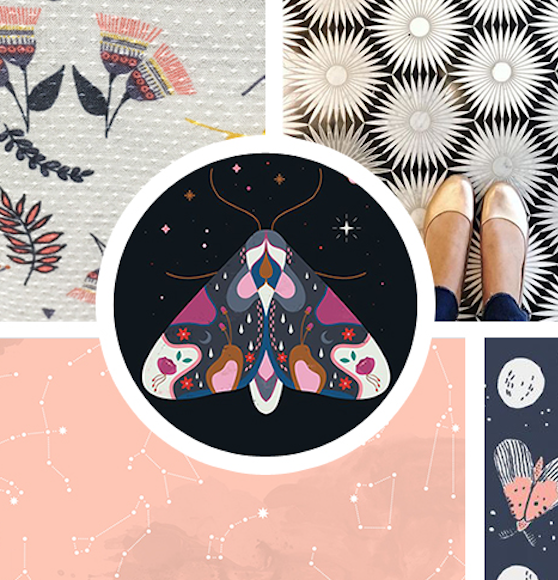 This transitional palette blends warm and cool tones that are reminiscent of sunny days and chilly nights, especially here in Southern California where temperatures during the day still linger in the 80s and 90s throughout the Fall months. Moths are popping up in a variety of markets including quilting fabrics, home decor, and gifts. Their soft and slightly iridescent wings are sweet and ever drawn to the Light, like the innocence of a newborn.
From sheer fabrics and cozy flannels, this moodboard calls for layers and a turn in the seasons.
Check back at the end of the week to see my latest pattern, Nocturnal Nursery, inspired by the works I've gathered here. To learn more about the artwork and designers featured, please click on each image for a direct link to their original source.
Are you an Art Director, Designer, or Product Developer?
I love following trends, stalking store shelves big and small, and the hottest trending pages to the tiniest nooks and crannies of the internet to gather inspiration. If you are interested in having me create moodboards for your next product line, contact me here: http://www.pigpigmentation.com/contact